Our events
Good mood guaranteed!
MR. JANNIN AND MR. LIBERSKI IN GREAT SHAPE!
LIFE IS BETTER WITH WITH A GOOD BEER, RIGHT?
For the promotion of our beer, we were fortunate enough to collaborate with the famous duo formed by Fred Janin and Stefan Liberski. According to us, they are the perfect embodiment of Belgian comedy and the essence of Brussels and its people, which is what we tried to convey through our product. Don't just take our word for it, take a coupe of miutes to watch the six hilarious videos they made for us.
Disclaimer: watching these videos might make you thirsty!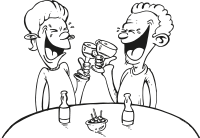 Copyright 2020 - Oui Bien-sûr SPRL